Read this ABC article about online food deliveries.
It sounds like the reason hardly anyone dines at New York Minute is the influx of online delivery services, right? I have a different theory: New York Minute burgers just aren't good enough.
I visited the New York Minute store referred to in that ABC article when it opened around three years ago. I would have been part of the 85% of customers who sat down to eat there. Then I stopped going there, not due to Deliveroo or Uber Eats, but because I just didn't like their burgers much. The disappearance of diners could just be that most people are like me: they gave it a chance but many decided not to come back. Once the initial influx of curious locals died down there were too few people left dining in?
Not that I want to denegrate Mr Crowther and his business; it does have some very tough competition. 100m from New York Minute's East Brunswick store is The B.East. The B.East does amazing burgers at a similar price, including the Filthy with a homemade fresh chilli sauce which is my favourite burger anywhere. The B.East is also more pleasant to actually visit and dine at. It has a lively and warm atmosphere, unlike New York Minute which I find too clinical and formulaic.
Directly across the road from New York Minute is Chicken on Lygon, which does classic Aussie burgers. You know the kind: just like from the fish & chip shop when you were growing up. They're not fancy but they're done right and the prices are better than New York Minute.
A little down the road is Ron's Handburger at The Alehouse Project. This is a great place to go for a properly excessive American-style burger; the beef is juicy and dripping with heaps of cheese and sauce. And to accompany that burger The Alehouse has one of the best lineups of beer in Melbourne! 12 taps of the most exciting craft beers and great staff to explain them for you.
Go for a bit of a walk and there are plenty of choice burger places: Juanita Peaches makes burgers some people swear by as the best in Melbourne (I prefer the B.East though), FAT Fried & Tasty does excellent chicken burgers, and no-one can match the history of Danny's Burgers — opened in 1945 and still flipping great burgers.
⁞
That all said — I reckon online food delivery services are doing damage to restaurants. You think the $5 delivery fee is all that Deliveroo, Uber Eats, and Menulog take? Nope. They take a big fee from the restaurant too, apparently up to 35%. That is a lot when the Australian Tax Offices says benchmark margins for restaurants are 8-15%... that fee could easily eat up all the profit of a restaurant.
No wonder hardly any restaurants in Brunswick are on Deliveroo or Uber Eats. A few months ago I bet someone that the majority of restaurants aren't on them. A few hours of inane research later I proved right: less than 20% of my local restaurants are on food delivery services: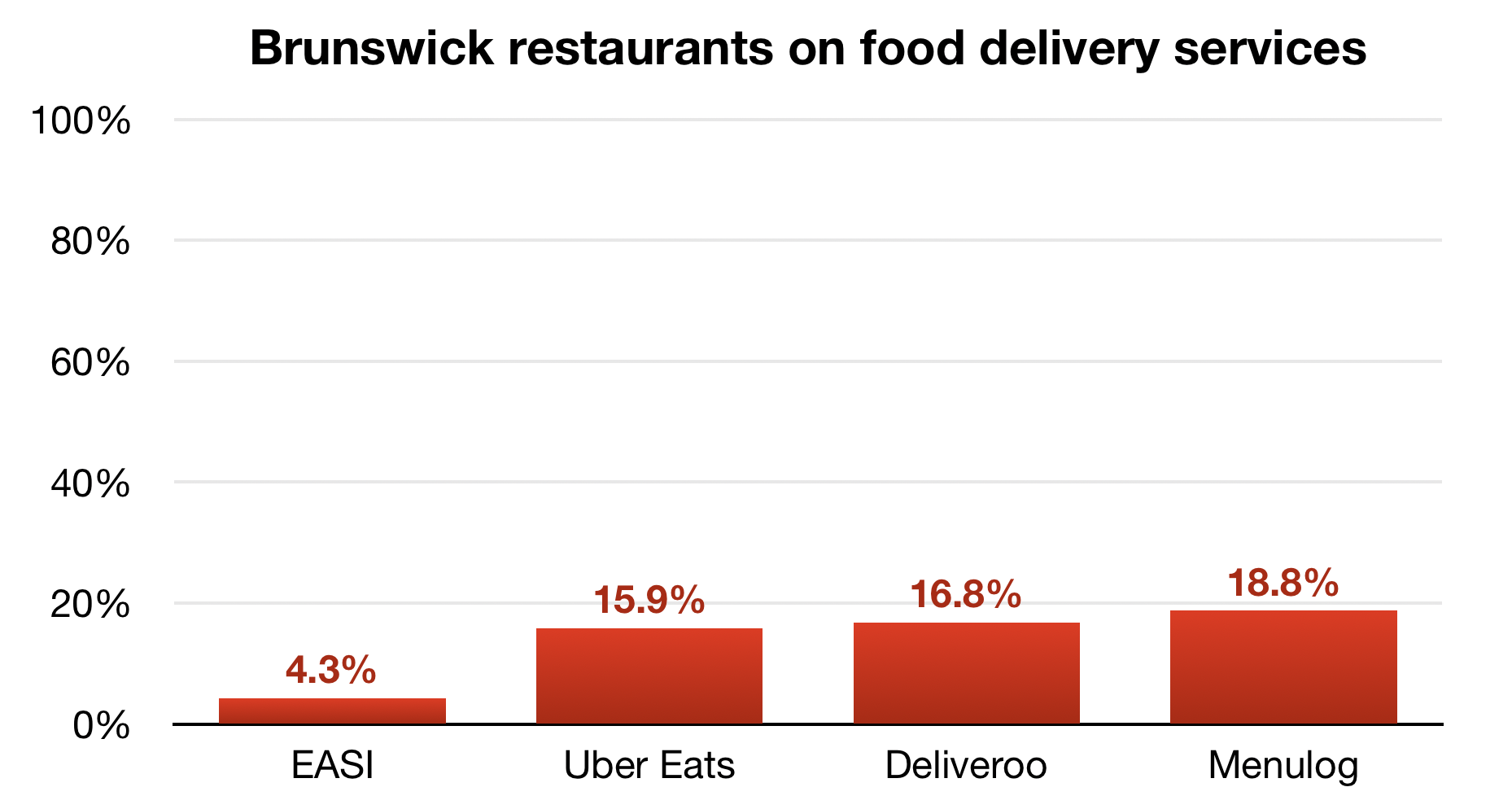 If these delivery services were good for restaurants wouldn't they be jumping at the chance to be on them? The tiny numbers suggest they are not.
I think a big problem is these fees are hidden. Have a look at the burger prices for New York Minute: they're the same for pickup or delivery. There is a delivery fee on top so a New York burger and chips costs $19.40 if you pick it up yourself, or $25.00 if you get it delivered by Uber Eats. Compare what the restaurant gets though: take out $5.00 delivery and $7.00 percentage fee (assuming 35%) and the restaurant gets $13.00 instead of $19.40.
Why do they put up with that cut? Maybe it's because they think customers would blame the restaurant for high prices. I suspect people don't realise the delivery services take so much.
Uber and Deliveroo are adamant their delivery staff are self-employed contractors not employees. Well if so then receipts should show how much we're paying the person who delivered the food:
One line showing what the restaurant was paid
One line showing what the delivery person was paid
One line showing what Uber or Deliveroo was paid
I bet that would go some way to fixing up the system. The problem is that Uber and Deliveroo may not want customers to realise how much they're taking...